There are many challenges in running a successful business. Don't let your technical projects bog you down. If you're in need of an expert technical resource that you can trust, you've found it. From server migration to website development to server security to website maintenance, WSM can help you find technical solutions that fit your goals. Our wide-spanning expertise allows us to remove barricades and get your project done quickly and correctly. Thousands of businesses just like yours have saved money, time, and effort on their technical projects, by engaging WSM, often eliminating the need to hire and train internal IT resources.
servers / websites migrated
The know-how for migration and beyond
Migration is our specialty, but our expertise doesn't stop there. Need security services? We got it. Need help with  website or application development? We can help! Interested in cost-effective managed public cloud services? We've got you covered.
We're host, cloud, tool, platform, and solution agnostic.
Not tied to a particular host, cloud, tool, platform, or solution provider, we find and use the best fit for your business challenges. We put your business at the center of the planning process and choose solutions that will work best for your goals.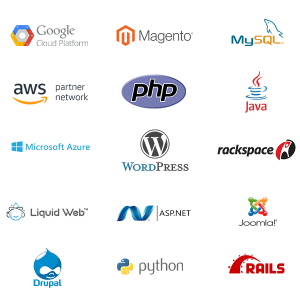 What Our Clients Have to Say
"Everything is running great! I love the new checkout page with all of the features. My orders have almost doubled on a weekly basis."
"We appreciate all of the efforts of WSM, in particular David and Joshua. They did a lot of really good work in a minimal amount of time."
"WSM has always been most helpful and a resource for our needs with nothing but professionalism from your staff. I've been at this for 10+ years with various other services and can tell you no one comes close to the responsiveness and technical expertise that WSM has!"

corinne
Many SMBs don't have a robust or experienced IT department that can manage a cloud environment properly. Cloud managed services can help your business stay secure, remain without downtime, and optimize your environment without having to make that investment. When you engage a cloud managed services provider, you're getting a true expert in the cloud and other related IT services.
corinne
As 2018 expires, so will support for PHP 5. PHP 5, a popular programming language for CMS websites like WordPress, Joomla, Drupal, and others, reaches end-of-life at the end of 2018 and will no longer receive security support. If your website is running PHP 5, consider upgrading before the end of the year so as not to put your website at risk.
corinne
Most of our clients are aware of the benefits of adopting the cloud, but many still have some reluctance to take advantage of the many benefits.  After many years of guiding companies of all sizes to the cloud, we know the fears you have and want you to know that moving to the cloud isn't scary. Let's talk about the tricks to moving to the cloud so you can focus on the treats of cloud migration.