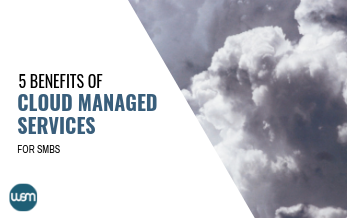 No matter what type of IT environment you have or where you host, it a certain amount of TLC is still required to maintain your environment properly. For those small to mid-sized businesses (SMBs) who have chosen to adopt the cloud (whether fully or through a hybrid arrangement), proper cloud management can help businesses reach their ROI goals and optimize their investment. Cloud managed services for SMBs can help.
Gartner reports that more than 65% of IT budgets are spent on tasks that keep the lights on and the wheels turning (known as run costs). This means that there's not a lot left for planning, building, and all of the other activities that go into making IT a strategic advantage to your business. Many SMBs don't have a robust or experienced IT department that can manage a cloud environment properly. Worse, cloud skills are in short supply these days and hiring the right people can be prohibitively expensive. Cloud managed services for SMBs can help your business stay secure, remain without downtime, and optimize your environment without having to make that investment. When you engage a cloud managed services provider, you're getting a true expert in the cloud and other related IT services.
1. Cost Savings
When you hear the word outsourcing, you may see dollar signs; however, hiring a full-time IT staff is expensive. By outsourcing environment maintenance to a cloud managed services provider like WSM, you're getting a highly skilled team that is skilled in a variety of areas as opposed to paying staff who may not have the full range of skills and may be significantly underutilized. Outsourcing your cloud needs to a cloud managed services provider like WSM can thus save you potentially thousands of dollars each year.
In addition, cloud managed services for SMBs allow your business to have predictable, recurring monthly costs for maintenance. With fixed monthly service plans, you know you're not going over budget and will have the peace of mind that someone is available to help when you need it.
2. Specialized Expertise

When you hire a cloud managed services provider, you're hiring a team of experts. If you're an SMB with a small IT department, you could spend a lot of time researching new tools and implementing them. Save time, effort, and potential business disruption by involving a cloud managed service provider who knows the newest technology and can rapidly deploy and activate it on your behalf.
3. Free Up Internal Staff
If you do have an internal IT staff, chances are they are pretty busy people that wear a lot of hats. Much of maintenance has to do with mundane, repetitive tasks that can bog down your team and cost a fortune to automate. Save them time and get them back to focusing on ROI-related projects that can't be outsourced.
4. Monitoring, Alerting, and Incident Management

Rest assured that your environment (and your business) is safe and sound. Cloud managed services providers not only help with network maintenance and optimization, but most providers include monitoring, alerting, and incident management services as part of their packages to ensure that you don't have to worry about any downtime.
5. Flexibility
Cloud managed services providers can help you where you need it the most. With flexible plans that focus on what you want to achieve, cloud managed service providers should be able to tailor a strategy to fit your needs. Every business is different and choosing a cloud managed services provider that can help you as your business grows is crucial to success.
Taking your business to the next level in the cloud is as easy as engaging a cloud managed services provider like WSM. Our cloud managed services plans not only help businesses optimize their performance in the cloud to achieve maximum ROI, but also provide access to our entire suite of services, from migration to development to security to compliance, all while maintaining an upon consumption billing model. Contact us today to learn more!