Make a good online impression with website development from WSM
Your website is your business, your online store, your marketing platform that's going to help you win your next big client. It communicates your business value and works to convert customers. Whether you need a high-performing e-commerce store, a content publishing open-source website, or a custom-developed application or API, WSM's website development services ensures that it's intuitive, functional, and appealing. No matter your IT abilities, knowledge or team size, WSM has you covered.
From simple to complex, website development that with your business in mind
Our build-to-suit website development process puts you in the driver's seat, delivering robust functions and features that fit your needs.  Your project will be custom-tailored to suit your unique business objectives. With over a decade of experience providing website development services, our team makes the development process easy and efficient.
 We are platform-agnostic, so you aren't painted into a corner when it comes to choosing layout, themes, off-the-shelf or custom applications, or programming languages. Unlike other website development companies, our team has no qualms about working on existing website applications.
Transform your online presence with a platform change
Don't be held back by an old website or application. Transforming your website can transform your business. If you have an outdated, cumbersome, custom legacy website or application, WSM can help you change it to a solution that better fits your needs. We'll help you choose a platform that empowers your business to give the best impression online.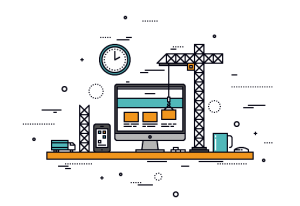 Just looking to update your version?
Need support and maintenance for your website? We do that too.
"I want to thank you. Everyone did such a wonderful job on the new website! The entire team was great to work with and incredibly professional. Corinne George, the project manager, was amazing!"
"I am amazed at the prompt/efficient customer service by WSM that I have received thus far. Soon we are going to dig into revamping our old, huge HTML Intranet and create a WordPress Extranet. WSM has gained my confidence in that I feel our project will be a success."
"Good deal. Everything is running! I love the new checkout page with all of the features. My orders have almost doubled on a weekly basis. I think because everything is finally working as it should."
corinne
As 2018 expires, so will support for PHP 5. PHP 5, a popular programming language for CMS websites like WordPress, Joomla, Drupal, and others, reaches end-of-life at the end of 2018 and will no longer receive security support. If your website is running PHP 5, consider upgrading before the end of the year so as not to put your website at risk.
corinne
With the last quarter of the year upon us and the holidays quickly approaching, ensuring that your website is up-to-date and has the latest security fixes is imperative to a successful end of the year.
corinne
We've been asked how you can "update to Magento 2." Unfortunately, the "update" or "upgrade" is really more of a replatforming project. There's no way to click a button and voila, your site is now upgraded to Magento 2! It's not a simple task.